This Page is devoted to the The Lands End to John O'Groats run in aid of the South West Children's Hospice Big Babes Appeal.
Day 2 Monday 24th July 2006 Lands End to Kings Stanley 290.2 miles
Starting Mileage 46,921.4
The first day proper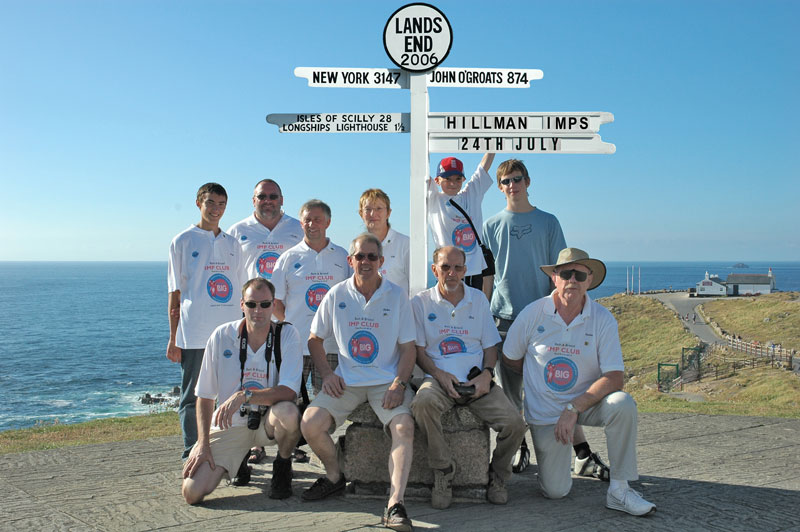 Well it was up early and checked the car oil and water no problems so back in for a wash and breakfast, it was the start of a glorious day, then we joined up with John Colin and Bob at their hotel and it was off to Lands End. We managed to blag our way passed the car park attendant saying we were only going to the start line, then we managed to get permission to go right round to the front to the sign post (see pictures above. We lined up the cars and even managed to pick up a Japanese tourist from somewhere. I then noticed the signpost was up but you could not take your own pictures without paying as this was for charity I just took a picture and then with a bit of work in Photoshop ;-) you get the result above.

With temperatures rising we set off back up the A30 aiming for Launcston, this was a good run with lots of great tree lined windy roads great to fly down. Brian was not running right and starting to smell of petrol more and more and it was getting a bit unpleasant in the car but turning the quarter lights in we got a good blast of clean air and pushed on. Lunch at Launcston. Here I checked the fuel consumption and noticed a big drop this petrol was leaking but could not see where. This was the start of "Andy and Doms Bad Day".

We set off again on the A30 the dual carriageway and it was really hot, Dom has a thermometer on his phone and it was at 97'f on the pull up on of the long climbs Bob and John got very hot and dumped a load of water we pulled over and then after a fill up we pushed on to the next service area. Bob was trying to get some better air flow to help his cooling, I checked the back of Brian and then out of the corner of my eye I saw a drip from the inlet of the fuel pump, right on top of the hot exhaust. I checked the fuel pipe and it felt loose but then trying to tighten up the jubilee clip the metal inlet pipe came away in my hand !!! more petrol !!! This explained the poor running and the smell Robert took charge and by turning the pipe round and tapping the "clean" end back into the pump he managed to fix it then added cable ties to tie the inlet and outlet pipes together around the fuel pump to prevent other problems (if the outlet side of the pump had failed it could have been disastrous). By this time Bob was sorted and off we went clean fresh air but still very hot.

Following the problems we had had coming though Exeter on the way down we decided to do 2 junctions on the M5 to miss out the city centre, and then we were back on the A30. on the pull up to wards Honiton my temperature started to rise and rise and rise, also slight drop in oil pressure this was not looking good, put the heater on to try and loose some heat, no good, no circulation at all through the heater. We boiled, whilst the others were filling up from a petrol station that still stocked full lead I was filling up with water.

We set off again for the Haynes Motor Museum, Sparkford, due to the problems we had had we would not have enough time to go round the museum but as it turned out my day was not getting any better. We parked up and I checked the water but this was not the problem now it was oil the capillary pipe leading to the oil pressure gauge had come loose and we were loosing a lot of oil onto the floor this was easily cured we filled up and after a quick look in the shop and a drink we were ready to push on again.

We pulled away sorry about the oil stain and drove up to the A303 just pulling on foot down sharp turn and ............ the steering wheel came off in my hands !!!!!! The next few seconds seemed like minutes I braked and then tried to turn the spine!? why I don't know i then came to my senses and pushed the wheel back on and off we went again. Scary or what..... the nut securing the wheel apeared to have come off.... well at least with the wheel in this position I could had a better view of the temperature gauge ;-). Richard behind was not aware of what had happened.

Following the A303 the heat was starting to back off at last an we headed off to Stonehenge then on A338 to Burbage to pick up A346 on driving through Tidworh noticed the Richards Imp looked strange was it yes it was Richard had picked up a stone around Stonehenge and smashed his windscreen, it had shattered but not broken and the toughened zone was giving a relatively clear view. We had a 70s replacement screen on board but decided to take it easy and go on to Colin's who had a replacement screen in his garage.

The rest of the journey was uneventful thankfully, and we eventually took the A361 at Swindon and arrived at Highworth about 6.40. I took the steering wheel apart to put the nut back on, but it was not there?!? asked around no one had one, not a major problem as I knew I had another at home, then Bob said had I checked in the socket ...... yep there it was so I had forgotten to put it back on the week before :-0 I put it all back together still feeling embarrassed.

The day ended well with a great meal of Chili and Chicken casserole, thanks to .... then at about 9.00 we set off home to Kings Stanley, picking up the A419 north of Swindon. It had been a very long and hot day with far to many problems. Dom was finishing here I really was going to miss him.