Day 1 Sunday 23rd July 2006 Home to Lands End 245.5 miles
I have decided to call the trip down day 1.
Starting Mileage 46,675.9
Fuel tank full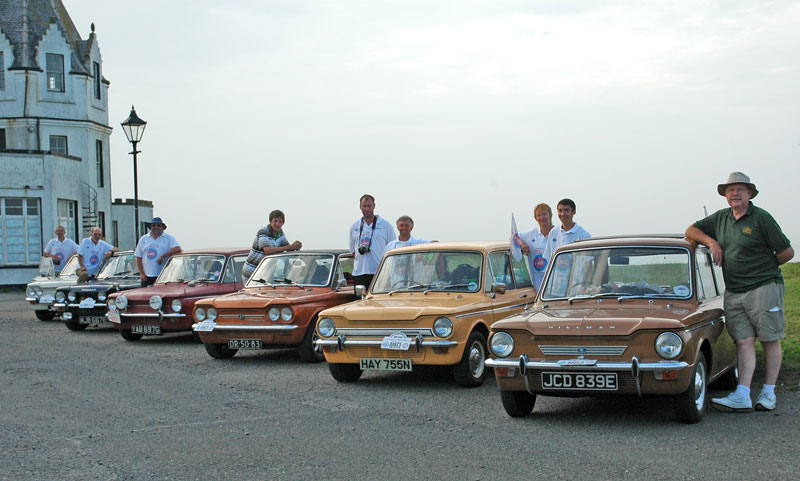 Well it was 08.00 on Sunday morning the earliest Dom had been up for ages and yes my prayers for a cooler day were answered, it was raining. We were packed up to the roof with spares tools equipment (including a spare gearbox) and clothes for all weather conditions. Out on to the M5 this was not the proper route and far quicker at this time of day. So to the sounds of Queen off we went.

No problems on M5, M4 and M32 but the road works in the centre of Bristol confused the hell out of Jane (the Tom TOM GPS), she is fine when there is a road but when we get diversions and new roads she keeps saying turn around when possible NO!. Then it was out onto the A37 to Farrington Gurney. The other problem I found with Jane is how accurate you can set her postcodes can cover a large area and that is my excuse for nearly missing the Little Chef car park, she said it was another 800 yards.
A quick sharp turn and we pulled in John and Bob were already there and we picked up out LeJoG polo shirts and flags a great job by Jill, thanks. Colin arrived next and the weather was doing its best not to rain but failing occasionally (still would have killed for a bit of rain on day 3 but that's getting ahead of ourselves). Robert and Richard joined us, they had stopped at a local B&B having come down from Northampton on Saturday.

So adorned with balloons and flags we had our last photos, and best wishes from those who came to see us off sorry didn't get your names but thanks, it was off......

John in the lead and Robert in the rear (Robert has a 998 under that cover clearly the fastest Imp there and decided that he was best placed at the back). The A37 down to Ilchester and then picking up the A303 then on to Honiton and the A30 in to Exeter services for the first break for lunch.

John said I had a wobble on my rear offside wheel so after lunch we jacked it up and the axle and bearing were fine it had a dent in it not enough to let the air down and it was balanced fine so put it back on and off we went.

After leaving the services we had to track through Exeter to get out onto the A30 again and that is not easy keeping 6 cars together through a lot of busy roads, it was to become a regular occurrence but we got cut up a number of times, some people just cat wait.

Following the A30 heard Robert booming past dangling his ignition keys out of the window at us, clearly after starting they are only an optional extra, he couldn't resist giving it a blast down the dual carriageway. It was not long after that we had our first problem Colin stopped, we stopped in the next layby and after a while I started to run back to see what the problem was but maybe it was the sight of me jogging or not the waved me back and they drove up and joined us Colin had got vapour lock in his large petrol filter, tipping it up got it going again but it was to be a regular item for the next day or so.

I was getting warmer as we drove but a steady 55/60 seemed OK for all, crossing Bodmin Moor reminded me of a trip down to Newquay in my old yellow IMP with Dave Thursfield about 1976 his mum had made Cornish pasties and we warmed them up on the engine over the last few miles to Jamaica Inn, the road now passes the pub by so it was off towards Indian Queens. There is still a short single carriage way section here and we got well stuck behind a tractor for about 4 miles but soon this will be bypassed by the dual carriage way that is currently under construction.

We stopped at the Little Chef and Dom managed to charm the waitress with those blue eyes not only did he get given two drinks containers free she also filled one up with lemonade for him as well.

Back on the A30 passed St Ives and St Michaels Mount and then a turn off onto the A3071 to St Just to check out the hotels Bob, Colin and John were at the Bosavern Hotel just outside and the rest of us were at the Commercial right in the centre. After a quick stop to book in and Richard to take his distributor apart, muttering they don't make them like they used to and why did they have to change them.. but it was soon sorted and cured the misfire. It was of on the B3306 round to Lands End to have a look (well it might be raining tomorrow).

Lands End is quite / very commercialised so much so after 6.00pm they even remove the signpost arms to stop you taking your own pictures well we didn't let that stop us and we took our own anyway we just weren't sure which way we were going. A few pictures later and it was back to St Just for dinner.

Well that's what we thought but when Dom and I got back to our room we had no power and then we found no water!! as well, the power was off and this had also dropped out the water pumps. No water meant no food so they had a word with the pub over the road and the 10 of us went over there for a meal 9.20 by this time Dom was ready to eat a horse. Nice food, I had fish and chips and then the power was back on at our hotel so it was back to bed, usually it takes Dom an hour to get to sleep tonight he was out within minutes it had been a long day.